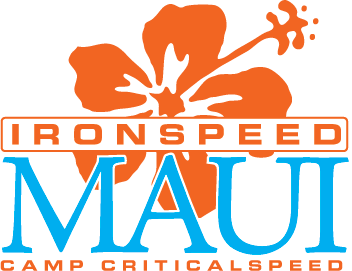 April 10th - April 18th, 2021
Travel Days are: Saturday April 10th and Sunday April 18th
Activity Days are Sunday April 11th - Saturday April 17th
Arrival Date Must be on or before Saturday April 10th
Facilitated and Organized Michael Covey and Local Hostess Kelly Hardin

Pay Your Deposit Now!
SPECIAL ANNIVERSARY OFFER: Sign up before Oct 15th and receive 100.00 off the Camp Fee
---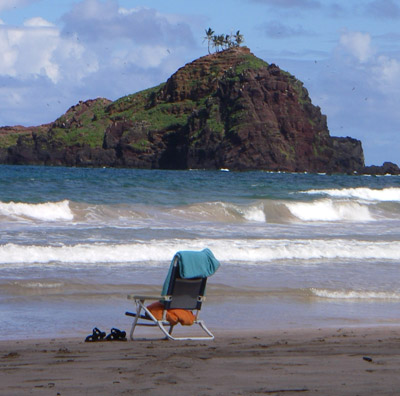 What's missing…You!
---
Go here to view some IronSpeed Maui camp pictures from previous years.
Accommodations
Banyan Maui Bed and Breakfast Inn: Cottages and Suites
For Slide Show of Banyan Maui B & B go here
The Banyan Bed and Breakfast Inn has 7 guest cottages and suites. Under the Historic Plantation House roof is one of the cottages (Plumeria) and all 3 of the suites; it can be rented as a 2, 3 or 4 bedroom house.
Each cottage and suite has it's own entrance, private bathroom and kitchenette. Each kitchenette includes a small refrigerator, microwave oven, toaster and coffee maker with fresh ground coffee, teas, hot cocoa etc.
Accommodations Fees
$110.00 USD

per night* including taxes! *

Based on double occupancy in the Plantation House.
Some Private Cottages are available for an additional fee.

Camp Food Breakfasts and Dinners will be included in your camp fees!
Lunches, snacks etc. are on your own. Each cottage has a small fridge and shopping trips will be frequent.
Cycling fuel will be provided in the sag vehicle along with Gatorade, Water and Coke.

Camp Fee $1650.00 USD (600.00 Deposit to hold your Spot)
Refund Policy
600.00 USD to hold your spot. A 100.00 usd administration fee will be held back if you cancel before Feb. 1. Between Feb. 1 and Camp Start full deposit will be kept. Full Camp Fees Due March 1 with no further refunds if you need to cancel. Credits may be offered for a future camp.
Companion Camp Fees: 800.00 (includes Camp Meals and Most Activities along with Transport Options
Bike Rentals If you are not interested in bringing your own bike, you can rent from the nearby Maui Cyclery. You must arrange this yourself and pay for the rental. Please do this well in advance of the Camp (at least 2-3 Month before). Please call Donnie Arnoult at 808 575 7469.

The Maui cyclery is near our B and B!
Maui IronSpeed Camp Itinerary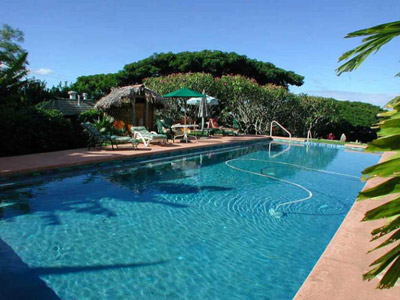 Saturday: Arrival and Getting Organized
All campers must arrive on this Saturday to allow for time and effort in getting organized. We will pick you up from the Airport. We will also have a bike savy mechanic to assist in building your bike. Camp debriefing and Consent Form Signage will take place throught the day.
---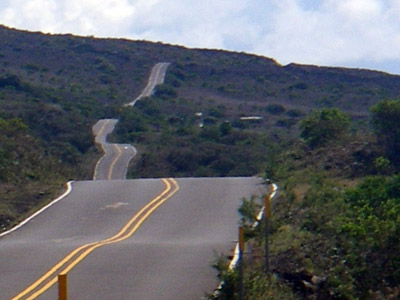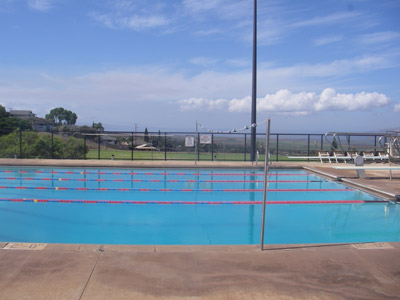 Sunday: Beautiful Bike Ride for Lunch and Trail Run Day
| | |
| --- | --- |
| 7am-8am | Cater Breakfast |
| 9am - 2pm | Bike "Upcountry" to the Tedeschi Winery for lunch and back. 60-90km round trip, 3,000 feet elevation gain. This ride has very little traffic and majestic roads. The temperature is mild since you will be cycling at 2000-5000 ft. |
| 3pm-4pm | Trail Run in Upcountry Forest Reserve |
| 4pm-5pm | Shop in Makawao |
| 6pm-7pm | Catered Dinner |
---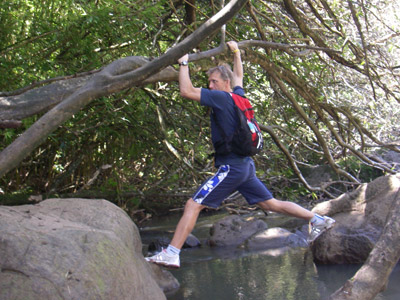 Monday: EPIC Cycle Day: Famous Road to Hana (Weather Permitting)

| | |
| --- | --- |
| 7am-8am | Catered Breakfast |
| 9am-5pm | Cycle the famous Road to Hana. Spectacular views and challenging roads. Vehicle support allows for shorter rides and more sightseeing:) For stronger riders, and EPIC East Loop can be the all day plan (vehicle supported). |
| 5-6pm | Hot Tub / Cold Pool Recovery |
| 6pm-7pm | Catered Dinner |
---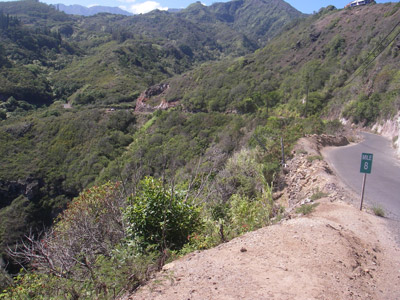 Tuesday: South Maui Water and Beach Day

| | |
| --- | --- |
| 7am-8am | Breakfast |
| 9am-4pm | Long Opean Water Swim (3000-6000m) and Long Beach Boardwalk Run (60-2 hours). Beach time and possible Paddleboarding (you can rent). Shops at Wailea. |
| 6pm-7pm | Catered Dinner |
---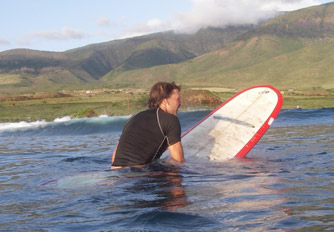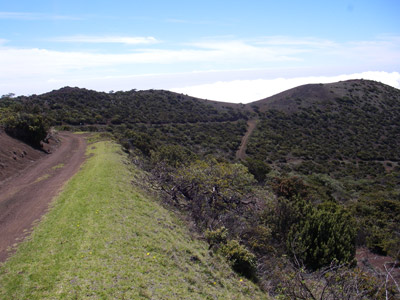 Wednesday: West Maui Loop

Becoming a True Hawaiian: Surf Lesson and Long Trail Run on the Volcano at 4000 - 6,000ft.


| | |
| --- | --- |
| 7am-8am | Catered Breakfast |
| 9am-3noon | West Maui Bike Loop. Amazing newly paved roads on the West Maui Loop to Dt Flemming Beach for a Picnic (Counter Closewise) |
| 3pm-5pm | Hot Tub / Cold Pool Recovery and Free Time |
| 6pm-7pm | Catered Dinner |
---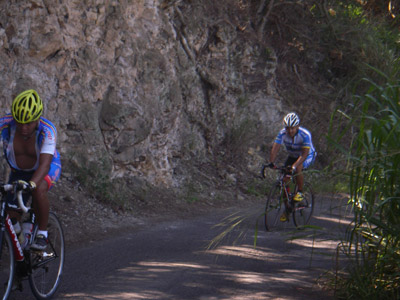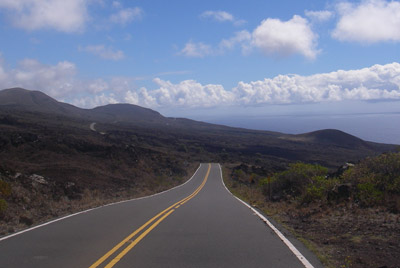 Thursday: Crater Run and Hike then an Ocean Swim

7am-8am

Catered Breakfast

9am-2pm

3pm-5pm

Incredible car ride to the summit of Haleakala. The group will start the run at 10,000 feet and exit at 8000 ft. Trail run / Hike 3 hours.

Open Water Swim at Baby Beach in the Flume / Shopping in Paia

6pm-7pm

Catered Dinner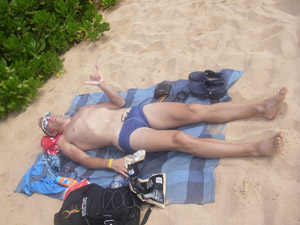 Friday: Bamboo Hike / Whale Watch
| | |
| --- | --- |
| 7am-8am | Catered Breakfast |
| 9am-12noon | 3 Hour Bamboo Hike. Must have a backpack with food and fluids. Hiking boots optional but recommended. Bathing suits necessary with cliff jumping and fresh water swimming. Bamboo and tropical jungle hiking. |
| 12pm- 3pm | Snorkel Boat Adventure 1-4pm (Food and Drinking Provided) |
| 4pm-5pm | Free Time and Bike Prep for Epic 10,000 ft Climb up the Volcano |
| 6pm-7pm | Catered Dinner |
---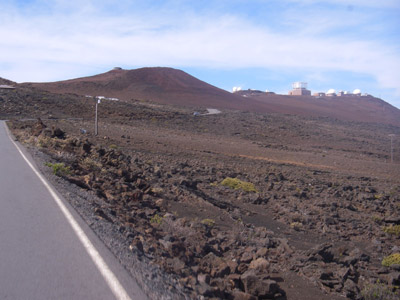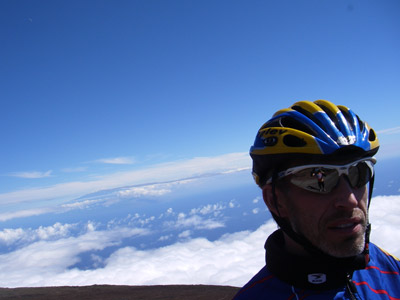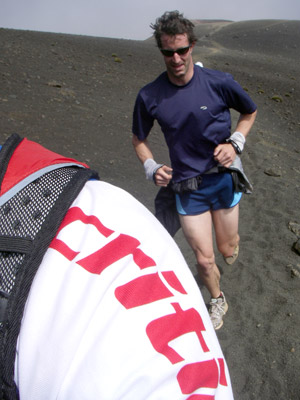 Saturday: 10,000 foot Bike Asent Up the Mighty Haleakala
Day 7 - Ultimate BRICK session!
Sea Level
- 10,035 ft
Beginner Riders will Start at 7000 ft at 10:00am
Moderate Riders will start at 3500 ft at 9:30am

Intermediate Riders will Leave the B and B (1500 ft) at 9:00am
Strong Riders will Ride down to Paia from the B and B at 9:00am
8:00am - Bike The Mighty Haleakala Volcano starting right on the shoreline in Paia.This ride will definitely cap off an amazing week on Maui. Be prepared for one of the longest continuous climbs (approximately 50km) available by bicycle on the planet (sea level to 10,035 feet). Be sure to pack arm warmers and a light jacket (rain gear). Bring money for a snack and extra cash for a park permit as we ride through the gates into Haleakala National Park. Elite riders will summit in 4 hours with most taking 5-6 hours. Everyone will descend down the mountain at 3pm! If you are not comfortable descending, you can catch a ride down in the van. Make sure you have either a triple chain ring, compact crank or at least at 39 front chain ring and either a 25 or 27 rear gear. This climb is truly epic and beautiful. This is a top 10 life achievement life. Support vehicles will be stationed at strategic points along the climb for food and fluids. Varying start points are necessary for the different levels of riders, with the final ride to the summit a must for all riders.
For those athletes who arrive on the summit before 1pm, you can do a run down into the crater. 2 hour maximum run. All athletes will descend at 3pm! You are also welcome to take the support vehicle down if you are not confident in your descending skills. When descending, there will be mandatory stops guided by the coaches.
Dinner at 6pm
Group Camp Meal and Social ending the camp.
---
Sunday: You will be transported to the Airport for your departure.
Camp Coaches and Leaders
Michael Covey: Professional Triathlon Coach and Trainer
Kelly Hardin
: Maui's Own Hostess and Director
For a detailed testimonial and more information, contact
CoachCal




Pay Your Deposit Now!