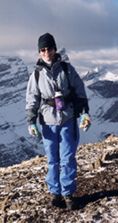 Thanks for the great day yesterday! I can barely walk and have some good bruises, but that's beside the point. I couldn't stop talking about it when I got home. I have NEVER been to the summit of anything before (without taking some sort of transportation there), never mind really done any hiking in excess of 2 hours. Maybe lacking a little confidence on the way down, but now I know for next time. Since joining Criticalspeed it's been one new challenge and experience after another. You really know how to teach people to try something and surprise themself. Thanks again, I had an awesome time! Sandy
Hello Team Snowshoe
(those who are intending on venturing into the winter playground)!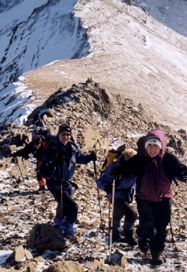 Welcome to the Criticalspeed snowshoe adventure season! These snowshoe outtings are quite advanced, but can be modified to meet each individual's abilities and needs. We move slow, but we get to the destination. If you are planning on competing in marathons, triathlons, adventure racing, Ironman, or ultramarathons, you should plan to attend these sessions. But not to worry, routes can be easily modified to accommodate any level of snowshoer. Do not feel intimidated. At anytime when you have had enough, you can stop, rest, wait for the group or turn back and head for home!
Our first snowshoe adventure will be in November. However, it is very important that you all are doing weights particularly strengthening the calf muscles and achilles tendons (the soft tissue that gets the most stress, tenderness and possible injury) prior to your first snowshoe outting of the season.
Training
Start with 2 sets of 12-15 reps (1 minutes rest between sets) in the weight room, but I would like you to be able to do 3 sets of 8 reps to failure (3 minutes rest between sets) before January 1st! So do two weeks of 2 sets of 12 then move to 3 sets of 8! While you are in there, make sure to do this for the leg press as well.

Begin to incorporate some stairclimbing into your program (use the stepmill, stairclimber, lifestep, whatever)...if it is not on your schedule, maybe substitute this with a run.
It is important that you are prepared for the snowshoeing this year. The duration and vertical gain will progress to accommodate most, but when we add extra weight like your backpack, it is quite a stress on the lower extremities!
Here are the snowshoeing dates! Mark your calendar. They take place on Saturdays or Sundays. You all need to sign consent forms before you leave the meeting location. This can be done at our initial meeting location. Departure is 8am. We meet at the MacDonald's across from Canada Olympic Park. Car pooling is necessary and park permits are mandatory in the National Park! Please be gracious to tip the driver for gas money. If you do not have snowshoes, gators and poles you can rent them at the University Campus Recreation or Mountain Equipment CO-OP.
2016-2017 Snow Shoeing Adventures (SUNDAYS)
Nov. 13, 2016

Chester lake, K Country
2500 vertical feet, 3 hrs

Dec. 11, 2016

Chester lake, K Country

3000 vertical feet, 3 hours

Jan. 15, 2017
Jan. 29, 2017

Sunshine Ski Resort
Sunshine Ski Resort

4000 vertical feet, 3 hours
4500 vertical feet, 3.5 hours

*Feb.12, 2017
*Feb. 26, 2017

*Tentative due to

Sunshine Ski Resort
Sunshine Ski Resort

Pending BRICK Schedule

5000 Vertical feet, 4 hours
5500 vertical feet, 4.5 hours
Mar. 12, 2017
Mar. 26, 2017

Sunshine Ski Resort
Sunshine Ski Resort

6000 vertical feet, 5 hrs
6500 vertical feet, 5.5 hrs

Apri. 9, 2017
Apr. 23, 2017
Sunshine Ski Resort
Sunshine Ski Resort
7000 vertical feet, 6 hrs
7500 vertical feet, 6 hrs

May 7, 2017

Sunshine Ski Resort
(Vertical Gain Challenge)

6 - 10K Vertical Feet, 6-8hrs
NOTE: Of course you do not have to do the entire route. There will be many people who will not snowshoe the entire duration or vertical gain. When we are at Sunshine, there are hundreds of options one which includes a 90 minute snowshoe to the upper lodge, read a book for 2 hours and drink hot chocolate and take a scenic gondola ride down to the parking lot! If you have any comments, questions and concerns please contact me!