Turning Ordinary Runners Into Champions
Join in on the fun and come run with CSR. Our team has several group running opportunities per week. If you are looking for a group that enjoys running thoughout the year, you have found your team.
---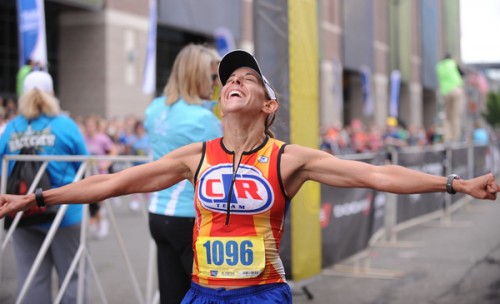 You can hook up with some triathletes or marathoners of all abilities on a long social run. Or come out and challenge yourself at a group interval session coached by one of the CSR coaches. Interval training is not just for elite runners. We all must do these sessions to become better runners.
There is nothing more special than having another 15 athletes persevering through a 12 X 1 mile repeat session. Is this something you are prepared to do yourself? If not, you certainly are not reaching your potential.
Make the change, come train with a committed group that has fun but remain serious about becoming the best they can be.
Typical Training Week for Runners
| | | | |
| --- | --- | --- | --- |
| Day | Time | Distance | Location Start |
| Tuesday | 6pm start | Long Intervals | Crescent Heights DownTown (Spring/Summer) |
| Tuesday | 8pm start | Track Session | MRU in Fall&Winter (plus core conditioning and plyometrics) |
| Thursday | 8pm start | Track Session | MRU Track or Outdoors |
| Saturday | 9am start | Long Run | Mount Royal University or Location TBA for group Trail Runs |
| Sunday | 10am start | 3-6 Hours | This day is reserved for fun activities such as hiking or snowshoeing. |
Coach
Calvin Zaryski: Master Degree in Kinesiology, NCCP Level 2 distance Running Coach and former Canadian World Mountain Running Team member. 2001 Winner and still course record holder of Calgary's Harvest Half Marathon. 2:43 marathon personal best and Elite Triathlete winning 9 World XTERRA Age Group Titles. Winner of the 2019 Trans Rockies 100+ and 80+ Divisions. 2018 Canadian Record Holder at the World SwimRun Championships in Sweden.
COST:
Option 1: 125.00 plus gst per month for Group CSR Training (Tues/Thur/Sat)
Option 2: 150.00 plus gst per month for One on One Program Design (Just Program Design)
Option 3: 200.00 plus gst per month for One on One Program Design and Group Run Training