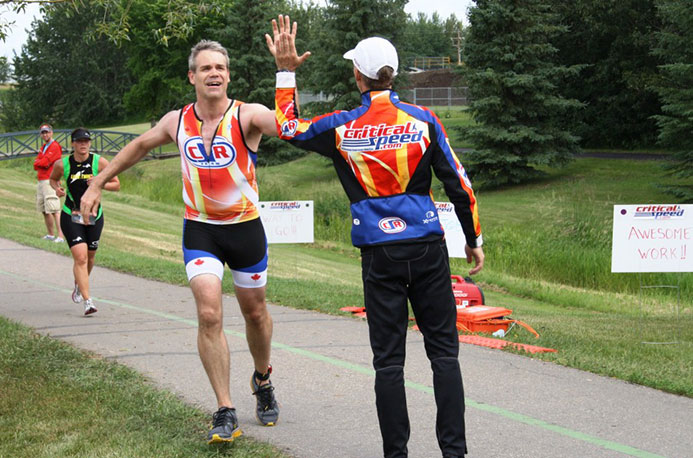 Preparation for multisport can be very demanding. The sequencing of the exercise volume and intensity requires intricate planning. This plan must be challenging yet enjoyable, sensitive to life's responsibilities. CoachCal is the most experiened Lifestyle High Performance Coach in Alberta, and has been awarded Triathlon Canada's Coach of the Year Three Times based on team performance, life balance and athlete satisfation. Whatever your goals maybe, CSR will provide the infrastructure to achieve and even exceed.

---

Criticalspeed provides a multisport training system that maximizes your time and stimulates improvements. The process includes a social and supportive environment to maintain consistency and motivation. The program is strategically designed incorporating a variety of activities and locations to account for our climactic challenges.
Read more

Group training and camps deliver cutting edge training science centered around altitude, volume and intensity manipulation with constant technical advances. Regardless of your starting point this structure guarantees results.

Successive years in this program will take you to the next level. These programs allow you to be apart of the most complete multisport system in Calgary designed by the most qualified and recognized coach in the Province.

Learn more about CoachCal.
Top Athletes Coached
Emily Wagner (Top Canadian Junior Elite Triathlete)
Carol Montgomery: Triathlon Commonwealth Gold Medalist / Olympian
Chuckie V: 1999 Ironman Canada Champion
Tom Evans: Ironman Champion
Jill Savege: Triathlon Pan Am Champion, Olympian
Pauline Li: Top Female Amateur IMCan 2004
Kim Townsend: 2nd Female Amateur IMCdA 2005
Michael Gorman: 2nd Male Amateur IMCdA 2006
Catherine Brown: 5th Overall Amateur IMCan 2006 & 07
Rosemarie Gerspacher: Top Female Amateur IMCan 2006 and IMCdA 2007

3rd Overall Amateur Hawaii Ironman World Championships 10:05.

Sheila Giles: 4th Overall Female Amateur IMCan 2008

2011 Ironman 70.3 and Ironman World Champion
2012 Ironman World Championships 8th overall amateur

2012 Ironman World Championships 8th Overall Female Amateur, Fastest Run
Jordan Bryden: Canada's Top ITU Under 23 Athlete in 2008
Bev Watson: World 50-55 Xterra Champion in 2008 and 2010
Danelle Kabush: 2nd Pro Female 2008, 5th Pro 2011 Xterra Worlds / Member of Luna Racing Team

2012 Great White North Female Champion
2012 XTERRA Beaver Creek Regional Mountain Champion

Myron Tetreault: 2012 Ironman Texas AG 45-49 Champion

2012 Canmore Triathlon Champion

Suzanne Boyd: 2012 Ironman Canada AG 35-39 Champion, 3X Kona Participant
CoachCal and the CSR Program Outstanding Accomplishments
1 Guinness Book of World Records
3 Athletes Summitting Mount Everest
4 Mount Kilimanjaro Summits
36 Athletes Qualified for Ironman Hawaii
12 World Champions in Triathlons
38 National Champions in Triathlons
405 IRONMAN Canada finishers
1 IRONMAN Canada Overall Winner
2 ITU World Cup Victories
2 Olympian Triathletes
8 XTERRA World Championship Titles
10 Marathon Des Sables Finishes
3 Comrades Marathon Finishes
45 Boston Marathons
4 Leadville 100 Mnt Bike Finishes