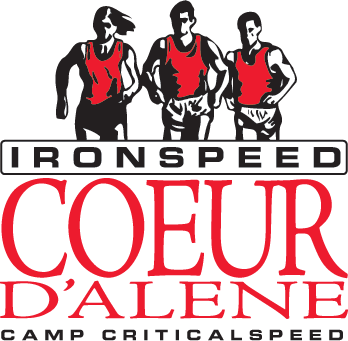 Saturday, May 11 -
Wednesday, May 15, 2013
(8th Annual)
Come train on the Ironman Coeur D'Alene course for 4 days. As an added bonus, you can then blast up to Penticton, BC to participate in the IronSpeed Penticton May Camp (separate cost) and finish off the week training on the Challenge Penticton course! The timing of this camp cannot be better for those training for Ironman CdA. If you do both camps, 20-24 hours of training is guaranteed with some professional advice from CoachCal, CoachBen and Dr. PZ Pearce. If numbers are large enough, other professional coaches will be added to ensure quality coaching.
---
PreCamp Physiological Testing with CoachBen
If you are interested in nailing down your race heart rate and power output for the perfect Ironman race, identifying your heart rate training zones, you can arrive early on Saturday May 11th, 2013 and get tested. The test will present the proper heart rates and power to ride the Ironman Course allowing for a strong marathon after the bike.
This IronSpeed CdA camp is perfectly timed just six weeks out from race day! Familiarize yourself with the course and enjoy some concentrated training mileage to ready yourself for the big day!
This camp is open to all levels, from the beginner to the experienced. It is aimed for those competing in, or with aspirations to compete in, an Ironman distance triathlon this year or next.
Additional Training With CoachBen After the IronSpeed Camp
If you would like to stay in Coeur D' Alene after camp for continued race course training and coaching on Thursday, Friday and Saturday, CoachBen will be offering a Thursday afternoon swim clinic with overwater and underwater swim video analysis, a Friday morning run clinic with a Friday afternoon nutrition and strategy overview of the run, and a Saturday morning bike fit clinic with a Saturday afternoon nutrition and strategy overview of the bike. You can add any day for only $100! Contact ben@bengreenfieldfitness.com for more information."
Camp Coaches and Leaders
Calvin Zaryski: Triathlon Canada's 2005/2007/2008 Age Group and Junior Coach of the Year, Alberta Triathlon Coach of the Year in 2003 / 2005 / 2007. 4X World Champion in XTERRA Off Road Triathlon and Ironman Hawaii / Canada finisher. 2.43 marathoner and 4:10 Half Ironman racer. Director of CriticalSpeed using a Master Degree in Exercise Physiology.
Dr. PZ Pearce: Medical Director of IMCdA and Ironman Athlete.
Ben Greenfield: Director of Sports Performance for Champion Sports Medicine
Ben Greenfield graduated from University of Idaho in 2005 with bachelor's and master's degrees in sports science and exercise physiology. He is certified as a personal trainer and strength and conditioning coach (National Strength and Conditioning Association), a bicycle fit technician (Serotta), and a sports nutritionist (International Society of Sport Nutrition). With over 8 years experience in coaching professional, collegiate, and recreational athletes from all sports, Ben is Director of Sports Performance for Champion Sports Medicine www.champsportsmed.com and the head coach and owner of Pacific Elite Fitness online coaching services www.pacificfit.net. At Champions, Ben directs a physiology and biomechanics lab that specializes in performance bike fitting, run gait and swim stroke analysis, sweat sodium profiling, blood lactate, VO2 and aerobic/anaerobic power testing. Through Pacific Elite Fitness, Ben teaches holistic wellness, sports nutrition and performance while creating comprehensive endurance athlete training programs. Ben has also written two books on metabolism and weight loss: "Shape21: The Lean Body Manual" and "100 Ways to Boost Your Metabolism". Ben is currently the #1 ranked triathlete in the Triathlon Northwest race circuit and holds several course records in the Pacific Northwest.

4 day camp offering cycling and running on the Ironman course. Race preparation seminars plus Q & A sessions and many miles guaranteed to prepare you for your Ironman or get a head start on your early season training for other ultra endurance races!
Camp Cost
Total Cost of the IronSpeed CdA Camp (May 15-18) not including Meals and accomodations is:
$579.00


Most evening and lunch meals will be at the local restaurant.
Massage: 2 Massage therapist will be available at the end of the days for you.
Rates are very reasonable with 30 minute - 60 minute bookings.
Camp Deposit and Payment
$300.00 before April 1 to hold your spot. Balance due April 15. 50% refund available until May 1.
Send checks payable to "Criticalspeed":
IronSpeed CdA Camp
2628 19th Ave., SW
Calgary AB, Canada
T3E 7G1


You may charge by Visa or MasterCard but a 5% surcharge will be added to your amount.
Weather and training volume!
Bring all clothing for all types of weather. A few years ago it was 100 degrees, the year before we had cool rain. You never know. Either way, we will take care of you! This camp is a training camp. I take this very seriously. There is a tremendous amount of training during these 4 days. This camp is 6 weeks from your CdA IRONMAN. This is the critical time to get in a large training volume. That means that you must take advantage of good food and good rest. There are many ways to modify the training schedule to make it less, but I suggest there is no need to add to this schedule.
Address and Phone Number of Hotel
Address of Host Hotel (Red Lion Templins Hotel)
414 E. First Avenue Post Falls
208 773 1611


CoachCal's Cell 403 660 7002
Ben Greenfield's Cell (VO2max or Lactate Testing on Sat or Sun)
208 883 7705
Open Water Swimming There is a chance that we may be swimming in Liberty Lake in chilly but reasonable open water. So bring all cold water swimming gear.. booties, cap and of course your wet suit. Typically cold water is the normal for IMCdA (57-62 degree water).
Kick Off Meal and Meeting Please try to make it to the Hotel on Saturday for a 7pm meal at the in-house restaurant. I will go over the camp details at that time.

This meal is on your own expense and you do not have to eat if you are not needing a meal.
Massage Massage Sign Up will be posted on the Main Conference Room. Massage will be Sunday - Wednesday night 7pm -10pm in 30 or 60 minute blocks. Massage is done by independent therapists and their rates will be announced at sign up.
Rooms and Breakfasts
Room charges are 95.00 plus 8% tax per night per room regardless of double or single occupancy. This does include a $3.00 breakfast coupon per day of stay.
Camp itinerary
Saturday Night, May 11
Advanced Testing with CoachBen from 9am-6pm. Please contact CoachCal to book a testing session.

Kick Off Dinner at 7.00pm
---
Sunday May 12
7:00am:
Drive to Pool or Liberty Lake
7:30am:
7:30am: Coached Swim Session until 9:00 (Possible Open Water swim in Liberty Lake)
9.45am:
Breakfast and Meeting
(Bring Fuel on bike supporting the mile repeats to follow, test fuel for run)
11.00am:
3 hour bike ride on Hilly section of Old Bike Course with EPIC Climb
both ways then
2.30pm:
Transport to Run Course
3.00pm:
Run 90 minutes Mile Repeats 8-10 X 1 mile on run course with 2' rest
5.00pm:
Group Dinner
7.00pm:
Evening presentation - Ben Greenfield - Ironman Fueling Physiology / Calvin Zaryski Final Physiological Preparation for the Ironman Race
Monday May 13
| | |
| --- | --- |
| 7.30am: | Breakfast |
| 9:00am: | Bike IM Course One Loop |
| 1:00pm: | Lunch |
| 2:30pm: | Bike another 2 hours Hill Climb Intervals |
| 6:00pm: | Group Dinner |
| 7:00pm: | Evening activity: Ben Greenfield - The Holy Grail of Triathlon: Biomechanics. |

Tuesday May 14
7:45am:
Breakfast
8:15am:
Drive to Pool/Lake
8:30am:
Swim Session until 10:00am
10:30am:
Drive Back to Templins Hotel
11:00am:
Small Lunch then transport to Run start
1:00am:
Long Run on Course (2-3 hours)
4:30pm:
Group Dinner
7:30pm:
Evening Presentation: Dr. PZ Pearce will outline some of the
medical implications when racing the Ironman. As the Medical Director of the
Ironman, he will outline some case studies from previous races and present
some solutions so you are ready for anything on race day.

Wednesday May 15
7:30am:
Breakfast at the Templins Hotel
8.30am:
Meet with run gear ready for bike/run transition
9:00am
Ride Ironman Bike Course (180km), Transition into 5km run, start of
Ironman Run Course.... long day!!
Each athlete is responsible for preparing for the food during the bike ride.
There will be a support vehicle and aid station after lap 1.
6.00pm:
Group Dinner
7:30pm:
Evening Seminar - Final preparations before race day and some
details of what to do on 'Ironman Day'
8.00pm:
Questions and Wrap Up
Thursday May 16
| | |
| --- | --- |
| 8.00am: | Breakfast and Wrap Up Meeting |
| 10.00am: | Check Out and Travel to Penticton or home! |
If you are interested, phone CoachCal at 403.242.2398 or by email: coachcal@criticalspeed.com